Since we first opened our doors in 2010, we've been fortunate to host some of the most prolific movers and shakers in fashion, music and art. Our new blog series will take you through the hotel room doors and into our one-of-a-kind suites and specialty rooms these guests call home. We invite you to climb between the sheets with us to get an intimate look at how they live the Pacific Rim Life.
The Lobby Lounge has recently unveiled a new state-of-the-art performance stage, and with it, the new Artist in Residence program. Every quarter, a visiting performer will be able to take inspiration from the Pacific Northwest and west coast lifestyle, all while staying in luxurious accommodations at Fairmont Pacific Rim. Duane Forrest, the first artist in residence to kick off the program, flew in from Paris, France to join us for a week in Vancouver.
Originally from Toronto, Canada, Duane Forrest's music is a unique blending of warm acoustics and gentle vocals, influenced by artists such as Jack Johnson and Norah Jones. Duane kicked off his stay with a performance at the Fashion Show held on November 20 – A Fashion Statement: a trunk show and runway presentation held in The Lobby Lounge at Fairmont Pacific Rim.
Some highlights from Duane's week in Vancouver include biking around the infamous Stanley Park seawall, making use of the BMW bikes available for use at Fairmont Pacific Rim.  Another highlight of Duane's week included an Aquabus trip across False Creek where he spent the afternoon wandering around Granville Island. As one of the most popular tourist destinations in Canada, you can get lost for hours wandering the aisles of food vendors in the market, shop for locally made artisanal goods and visit the Sea Village – a collection of homes floating in the water.
Duane never misses an opportunity to hike one of the numerous trails in and around Vancouver when he visits the West Coast.  His favourite destination is the Capilano Suspension Bridge, currently covered in twinkling lights to illuminate the holiday season. More than just a suspension bridge, activities also include a cliffwalk, treetop adventure and educational tours on the Kia'palano First Nations Culture.
After a day of hiking through the West Coast rain forests, Duane's preferred way to relax and unwind is in his guest room, in the heart of the city, enveloped within the dramatic architecture of surrounding buildings. Elegantly appointed with modern contemporary décor and luxurious oversized marble bathrooms, the city view rooms are a relaxing oasis in the city. Aside from his innate drive to create beautiful things, Duane also has a passion for arts education. In 2011 he founded Genesis Community of the Arts, a registered Canadian charity offering music and arts education to marginalized children and youth in Toronto and Central America.
From experiencing the beautiful outdoors to relaxing in The Lobby Lounge bar with an amaretto sour in hand, Duane lived the Pacific Rim Life during his stay this November. While visiting, we asked Duane to complete our 'between the sheets' questionnaire to uncover some of Duane's favourite things and some little known facts.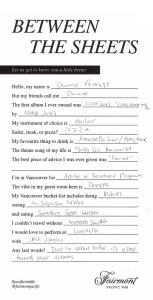 Keep up with Duane Forrest on social media:
Facebook: @Duaneintheforrest
Instagram: @duaneintheforrest
Youtube: Duane Forrest