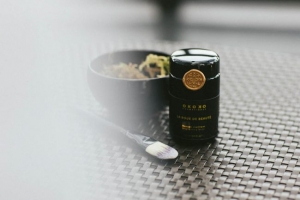 Our Willow Stream Spa at Fairmont Pacific Rim has recently introduced our Majestic Radiance Facial. This decadent and radiance-enhancing facial was created by OKOKO Cosmétiques to reboot, recharge and promote glowing skin. We've asked our best facialists to share the top five benefits of this new bespoke treatment.
There is a certain piece of mind that comes with knowing exactly where the products that you are putting on your face are made. OKOKO Cosmétiques use natural products handmade in small batches right here in Vancouver. This indie beauty brand is cruelty-free, eco-chic, and they actually hand-pick the healthiest natural ingredients.
This facial is ultra-rejuvenating and assists in cell turnover. Not sure why cell turnover is important? It's the vital process of shedding dead skin cells and replacing them with younger skin cells. Basically, it is the key to radiant, glowing, younger-looking skin!
A key ingredient in the facial is L'Élixir de Pureté – which contains the rare Dragon's Blood – a highly potent antioxidant. Dragon's blood originally became popular via Angelina Jolie's facialist who used the ingredient to define the star's beautiful cheekbones in the lead up to red carpet season. Now, Lady Gaga swears by it, Emma Stone can't live without it and Kylie Minogue considers it a firm favourite. Need we say more?
Congested skin, otherwise known as clogged pores, is a build-up of dead skin cells. Usually found in clusters of little skin-coloured bumps under the surface of the skin, if they aren't treated, they mix with the excess oil on your skin and turn into blackheads. To rid congested pores, dull complexion, uneven skin, and whiteheads and blackheads, the

 

Majestic Radiance Facial

 

is purifying and relieves the skin leaving it glowing and bright.
When it comes to anti-aging procedures, we're all hoping to strike gold and find the treatment that leaves us feeling like we have visited the fountain of youth while at the spa. This facial uses natural AHA's and retinol offering which provides effective, advanced skin care that addresses skin clarity, fine lines and indulges your senses to reveal a majestic radiance.
It really is never too early to start investing in your skin. This skin care regimen is good for all skin types and is exclusive to Willow Stream Spa. To learn more or to book the Majestic Radiance Facial at Fairmont Pacific Rim, please call 604 695 5550 or email [email protected].