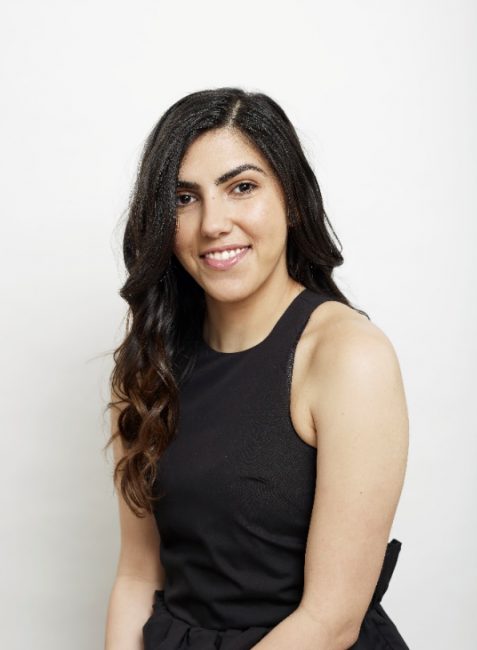 We want to introduce Ghalia Al-Ghoul, our Wedding & Special Events Manager at Fairmont Pacific Rim. Ghalia is originally from Amman, Jordan. She began her career with Fairmont when she did an internship at Fairmont Pacific Rim in May of 2014. Ghalia holds a Bachelor's Degree in Hotel Management and a Culinary Arts Diploma, where she graduated top of her class. What she likes most about her role as the Wedding and Special Events Manager is the attention to detail behind building events and being constantly challenged. Outside the office she enjoys riding equestrian and cycling. Ghalia can also speak Arabic and conversational French.
Get to know Ghalia better with our fun Q&A:
Where you will find me:
You can find me on the banquet floor with clients, whether it be showing our various wedding venues, hosting a menu tasting, or meeting a new couple for the first time.
What can I do for you:
I can plan the details of your wedding, from the venue to the menu, custom cocktails and desserts, and more.
How did your career start:
My career started when I went to culinary school in Bluche, Switzerland around nine years ago. Upon graduating culinary school and having worked in various kitchens, I realized that I am more interested in working in a client-facing role. Consequently, I pursued my degree in Hotel Management on Vancouver Island, and spent some time learning about wine while at it. An internship was required as part of my schooling and I was so excited to find a placement in the food and beverage department at Fairmont Pacific Rim. Here, I rotated between several entry line positions in the different outlets. I've been here ever since!
What I am most excited about in regards to my new role as Weddings & Special Events Manager at Fairmont Pacific Rim is:
I am excited to meet and work with our wedding couples, bringing their dreams to reality and delivering a seamless event for each. In addition, I'm keen to work closely with the other departments in the hotel, and I am particularly looking forward to getting familiarized with the new dairy kosher kitchen.
In my former role as Catering Coordinator, I handled internal events and corporate groups, so I am very excited to jump into the wedding industry and continue to grow here at Fairmont Pacific Rim. One of my first days in the Wedding & Special Events Maanger was the Weddings at Fairmont Pacific Rim brand launch event and fashion show, which was an incredible way to start this new journey. Take a look in the videos below!
My best insider tip for brides-to-be is:
My job is to make your process as seamless as can be, so don't sweat the small stuff!
Fairmont Pacific Rim is the ultimate wedding venue because:
I can think of so many reasons why we should be your wedding venue of choice, but it ultimately comes down to the impeccable service we collectively provide to our clients.
When I am not at Fairmont Pacific Rim you can find me:
In a yoga class, riding my bike, or spending time with my puppies!