It's here! Summer has arrived and Fairmont Pacific Rim is celebrating with pedal power. While Vancouver is known as a year-round destination for cycling, hinged on its temperate climate and permanent bike lines winding through the city, now is the time of year when locals and tourists race to get outside in the fresh ocean air and experience the city from its best vantage point – the seat of a bicycle.
For the first time, Fairmont Pacific Rim has unveiled 18 new BMW electric bicycles, which join the hotel's existing fleet of cruiser and manual bikes. These eBikes offer pedal assist up to 25 km per hour (15.5 miles per hour), meaning that guests can now easily explore places like the old-growth coastal rainforests of Pacific Spirit Park without breaking a sweat.
The bicycles are housed in an eye-catching carousel, spinning above the pond at the front entrance of Fairmont Pacific Rim. Commissioned by Westbank and created by Chapel Arts, this innovative art installation seamlessly blends functionality with creativity.
We caught up with one of our resident Bike Butlers, Ralph Lee, to explain how his team ensures you can experience the best of Vancouver on two wheels.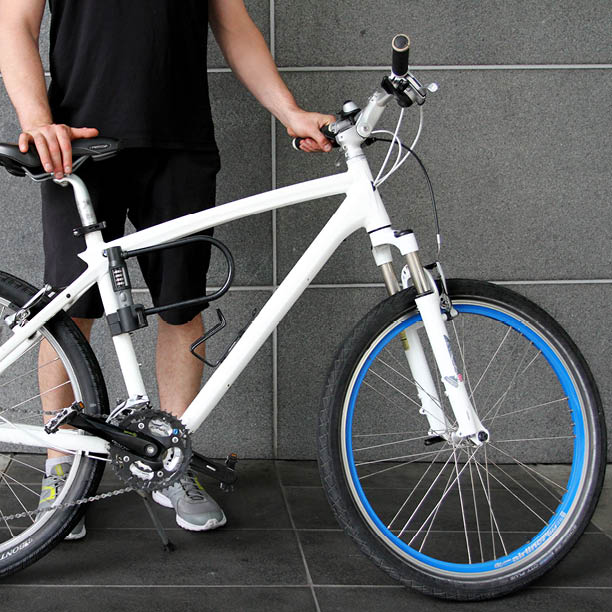 What do you do as a Bike Butler?
I make sure all our guests are able to enjoy the scenic views and bike paths we're so lucky to have in Vancouver. Most want to experience the city like a local, so I'm there to outfit them and provide them with all the tips and tricks they'll need for their cycling adventure.
The first thing I do is find out what type of ride they're looking for. Because we have a few different bike options, I need to know how long they want to be out for, how far they want to go and what kind of workout they're looking for so I can recommend the bicycle and the route that will work best for that trip.
Then, I'll outfit the guests with the right-sized helmet and fit the bike to them, so they can be safe and comfortable on their ride. I provide them with a custom map of the route I'm recommending and a bottle of water, answer any questions they may have and then I send them off to discover Vancouver.
What is your favourite bike route in Vancouver?
There are a few different routes I recommend depending on how much time our guests have to ride. For shorter rides I always suggest Lost Lagoon or the full loop of the Stanley Park sea wall.
For longer distances, the 10th Avenue Corridor through Kitsilano by way of Granville Island is a great way to discover some awesome local coffee shops, restaurants and bars without all the traffic of downtown.
The Arbutus Greenway is a former railway that was transformed into a car-free urban space, with walking and biking paths.  I always suggest guests take the sea wall to Granville Island, then the paved path towards the Fraser River which will connect them to two of Vancouver's most vibrant neighbourhoods, Kitsilano and Marpole.  There's no shortage of places to stop to shop, eat and drink or to enjoy a packed picnic from giovane café + eatery + market. This route is only getting better too, as more benches and art installations are built all the time.
How many bikes do we currently have at Fairmont Pacific Rim?
We have 18 BMW eBikes, 21 Fairmont Pacific Rim manual bikes, and 9 BMW cruiser bikes.
What is your favourite part of being a Bike Butler at Fairmont Pacific Rim?
My favourite part is watching our guests come back to the hotel after their bike ride. They always have huge smiles on their faces, great energy and can't wait to tell me all about their trip. It makes my day knowing they got to experience a quintessential part of Vancouver they probably wouldn't have been able to were it not for our bike program. I love knowing that their bike ride is going to be one of their favourite memories from their stay with us.
You can take advantage of Fairmont Pacific Rim's new electric bicycles and our Bike Butlers' expert services through our Sleep Cycle room package, which offers two hours of complimentary BMW eBike rentals and luxurious nightly accommodations for two.
To book a night at Fairmont Pacific Rim in luxury accommodation and receive a complimentary BMW eBike rental for two, check out our Sleep Cycle package.