One of the hotel's most popular amenities saw a major makeover with the recent unveiling of a custom one-of-a-kind bicycle carousel and the introduction of new BMW electric bicycles.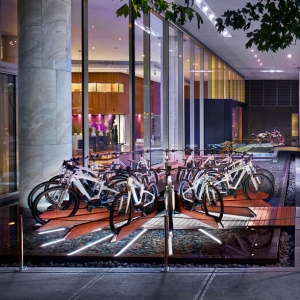 Under the creative direction of the hotel owner, Westbank, and local woodworking design firm, Chapel Arts, the ideation of the carousel saw many inventive and inspiring design iterations before settling upon the carousel concept as seen today; an endeavor undertaken to transform the storage of bikes into an extraordinary form of engineering and art. Spinning around above the pond outside the hotel's entrance, the carousel is made from mahogany plywood, and houses 18 custom electric BMW bicycles.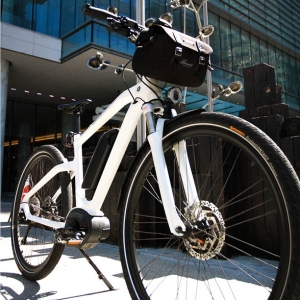 The carousel is operated by the hotel's resident bicycle butlers that equip guests for their cycling adventure in Vancouver. Each spoke is outfitted with a unique lock and key and access card, which are used to 'call' the bicycle, rotating the carousel accordingly to release and to re-house it on return. Customizable lights installed at each bicycle slot allow the butler to identify the correct bicycle and call it to the entrance of the carousel. As one of the most bike-friendly cities in the world, the local trails and lanes are a sustainable transportation option and an appealing way of seeing the sights.Whatever your adventure has in store, exploring Vancouver on two wheels is the perfect summertime activity that will leave you energized and inspired.