Jeff Savage, head bartender at Botanist Bar is currently in Europe competing in the biggest bartender competition of the year, the World Class Global Finals. In its 11th edition, 55 top-class bartenders from all over the world are competing for the title of World's Best this September in Glasgow.
This year's competition started with two challenge sessions in brand-new locations. The first one took place at the Nolet Distillery in Schiedam, the Netherlands. The Ketel One Market Challenge went well with Jeff presenting two cocktails, his Better Drinking Challenge, "Cold Hands, Warm Hearts." The cocktail is a riff on a Dutch Mule that uses kitchen scraps, oleo saccharum, acidified ginger, ketel one vodka and garnished with a Save On Meats token, that can be given to someone in need of a good meal. This cocktail is available exclusively at Botanist. His second cocktail was the Market Challenge, where he was given €20 and 20 minutes to create something delicious and sustainable. Jeff chose to blend Ketel One with both orange and purple carrot, lemon, ginger, and honey. The result was a beautifully coloured refreshing sip, with a sustainable edge using the spent juicing pulp infused into vodka for an aromatic spray and the carrot stems as garnish.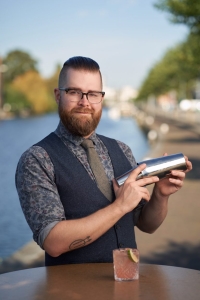 For his second challenge, Jeff headed to the Isle of Skye in Scotland for the Talisker Into The Wild Challenge. He was given a black box challenge. No tools, no equipment, no other ingredients or glassware, just what was inside the box. Jeff ended up making a cocktail with a black pepper and hot pepper infused syrup, lime juice, ginger beer and Talisker 10, all topped with aromatic Bitters infused with micro basil. Garnished with a lime husk and orange zests fashioned into a sailboat, and named "The Wind and the Waves," after the quote by Edward Gibbons "the wind and the waves are always on the side of the ablest navigator."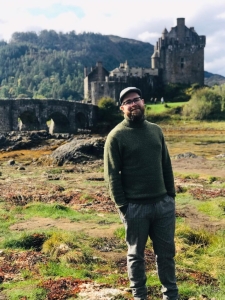 Now with two challenges completed at The Ketel One Distillery in Schiedam and Talisker on the Isle of Skye, Jeff is currently in Glasgow via this evening's welcome event at Boturich Castle on Loch Lomond. The results of these challenges determine the four groups for the next four challenges. Two people from each of these groups will proceed to the Final 8 Challenge on Thursday, September 26th in Glasgow. Stay tuned for more updates, good luck Jeff!