We've officially traded in sunshine and patios for warm blankets and Netflix marathons, but the change in season doesn't need to be so gloomy. We've rounded up six art galleries and events happening in Vancouver over the next few months that are worth getting out of bed for.
1. CONTEMPORARY ART GALLERY PRESENTS ANDREW DADSON: SITE FOR STILL LIFE
October 13, 2017 – December 31, 2017
Recurring weekly on Sunday, Tuesday, Wednesday, Thursday, Friday, Saturday
Times: 12:00pm – 6:00pm
Location: Contemporary Art Gallery
Address: 555 Nelson Street, Vancouver
Admission: Free
Vancouver-based artist, Andrew Dadson, brings his newest installation, House Plants, to The Contemporary Art Gallery. The exhibit features plant forms sprayed a single colour and lit by intense daylight lamps. Placed upon a raised platform staged in the gallery, this large-scale piece speaks to Vancouver's architecture; how city and nature blur together to build a remarkable landscape, for which Vancouver is arguably best known for. It is Dadson's most ambitious work to date and the most comprehensive solo exhibition in a public gallery to date.
In addition, a series of new monochromatic paintings are an added bonus to the exhibit. The large-scale paintings are created involving a process where colours are poured, spread out, layered and scraped towards the edges. The final layer of white leaves glimpses of other colours beneath the surface, in a cross-reference to the tradition of American abstract painting. For more information about Andrew Dadson's exhibit, click here.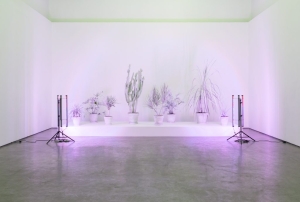 2. CITY ON EDGE: A CENTURY OF VANCOUVER ACTIVISM
September 28, 2017 – February 18, 2017
Times: Sunday – Wednesday: 10am-5pm, Thursday: 10am-8pm & Friday-Saturday: 10am-9pm
Location: Museum of Vancouver
Address: 1100 Chestnut St, Vancouver
Admission: Adult – $16, Student – $16 or last Thursday evening (5:00pm-8:00pm) of every month – admission is by donation
Pulled from the archives of the Vancouver Sun and The Province newspapers, this major, new –photo based exhibition on display at The Museum of Vancouver (MOV) features over 650 images of street demonstrations, protests and riots. City on Edge: A Century of Vancouver Activism showcases rarely seen walks of resistance with large digital projections and films coupled with animated sounds of protests and choirs. The exhibition features a range of historical events from the shore workers' strike at the Battle of Ballantyne Pier in 1935 to rallying of anti-logging groups at Clayoquat Sound in 1993. For more information about the exhibit, click here.
Stan Douglas – Abbott & Cordova, 7 August 1971, at the Woodward's building
A brisk walk down Richards Street towards the water will bring you to another prominent public art piece focused on Vancouver activism. This 50 by 30 feet art installation hanging above the Woodward's atrium by Stan Douglas, entitled "Abbott & Cordova, 7 August, 1971" is a photo representation of a little known, however crucial moment in Vancouver and the Downtown Eastside's history. The riot, known as the "Battle of Maple Tree Square," occurred when Vancouver police, in full riot gear, violently broke up a peaceful marijuana protest, which caused mayhem and destruction on Gastown's streets. The riot ultimately led to the city zoning the area as strictly commercial. For more information about the photo installation, click here.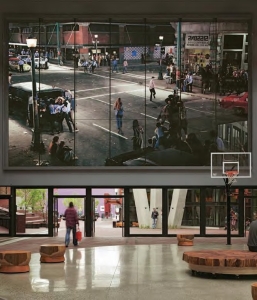 3. ENTANGLED: TWO VIEWS ON CONTEMPORARY CANADIAN PAINTING
September 30, 2017 – January 1, 2018
Time: Daily 10:00am to 5:00pm and Tuesdays until 9:00pm
Location: Vancouver Art Gallery
Address: 750 Hornby Street, Vancouver
Admission: General Admission tickets range from $6.50 to $24.00 (incl. tax)
Since September, the Vancouver Art Gallery has been featuring Entangled: Two Views on Contemporary Canadian Painting, curated by Vancouver art Gallery Senior Curator, Bruce Grenville and artist and Emily Carr University of Art + Design professor, David MacWilliam. This exhibition highlights the distinctly different modes of paintings that have come to dominate contemporary painting in Canada.
One strategy proposed the possibility of conceptual painting, while a second contradictory proposition valued actions and materials over ideas. The exhibition documents the work of 31 artists who have played a key role in the revival of painting within Canada. The artists range from Halifax to Victoria and many places in-between. For more information about the exhibit, click here.
4. MODERN ART TOUR AT FAIRMONT PACIFIC RIM
Open Daily, Monday to Sunday
Time: 7:00am – 7:00pm
Location: Fairmont Pacific Rim
Address: 1038 Canada Place, Vancouver
Admission: Free
Make your way to Fairmont Pacific Rim, where the art tour takes on a modern spin, enriched within the hotel itself. Wander through the hotel's growing international art collection, while accompanied by a 35 minute self-guided podcast. The podcast will explore the public art and architectural detail at the property, beginning outside and gradually coming back inside to the works throughout the public areas of the hotel. The exterior of the hotel was designed by James Cheng, the architect whose green glass towers helped create the term "Vancouverism" and combines the best of Asia and the West Coast in its design.
Under the direction of owner/developer, Westbank Corp., the collection is not themed, rather driven by interest and passion. The collection began in 2010 with the hotel's opening, and includes works by Neil Campbell, James Cheng, Liam Gillick, Fred Herzog, Zhang Huan, Ian Wallace and Joseph Wu, and underlines a deep commitment to bringing art and artists into all aspects of the hotel's design and development. For more information regarding the art tour, click here.
Fight for Beauty
Westbank recently opened their very own pop-up art gallery, Fight for Beauty: a thoughtfully-curated, ambitious exhibition designed as a full sensory experience celebrating art and artistry in all its forms. Find more information regarding exhibit, click here.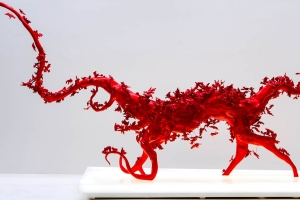 5. EASTSIDE CULTURE CRAWL
November 16, 2017 – 19, 2017
Time: 5:00pm – 10:00pm (Thursday & Friday) and 11:00am – 6:00pm (Saturday & Sunday)
Location: The event is focused on the area bounded by Columbia St, 1st Ave, Victoria Drive, and the Waterfront
Address: Eastside Vancouver
Admission: Free
Although you may need to bring along an umbrella to enjoy this event, we think it's definitely worth it. This four-day visual arts, design and crafts festival is filled with painters, jewelers, sculptors, furniture makers, weavers, potters, glassblowers and more. The festival, now in its 21st year, highlights more than 500 artist studios across 80 buildings in the area bounded by Columbia Street, 1st Avenue, Victoria Drive and the waterfront in Vancouver, Canada.
The mission of the Eastside Culture Crawl is to inspire, educate and engage the community and foster excellence and professionalism in the visual arts. Through large-scale events like the Eastside Culture Crawl, they are able to create an environment where the public is able to connect with emerging and internationally established artists. The organization itself has evolved to represent the heart of the East Van creative community. To view a map of the event, click here. For more information, visit their website here.
6. WINTER GIFT GALLERY
November 24, 2017 – December 24, 2017
Time: Tuesday – Sunday, 10:00am – 5:00pm
Thursdays,10:00am – 8:30pm
Location: Seymour Art Gallery
Address: 4360 Gallant Ave, North Vancouver
Admission: Free
Stressed about what to buy for the holidays? Not to worry, the Seymour Art Gallery has you covered. Complete your winter shopping while supporting the local art community. The Winter Gift Gallery will feature a group of artists selling scarves, paintings, jewellery, pottery and much more. On Sunday, November 26 from 2:00pm to 4:00pm enjoy a holiday reception, complete with homemade holiday baking and an opportunity to meet the artists whose work is showcased in the gallery. For more information about the event, click here.