Since we first opened our doors in 2010, we've been fortunate to host some of the most prolific movers and shakers in fashion, music and art. Our new blog series will take you through the hotel room doors and into our one-of-a-kind suites and specialty rooms these guests call home. We invite you to climb between the sheets with us and get an intimate look at how each of them lives the Pacific Rim Life.
We've had a long relationship with Jillian Harris, and like the best of friends, we've been there for all her biggest moments, such as the premiere of her latest show, Jillian & Justin.
A celebrated interior designer, Harris has lent her taste and design expertise to Love it or List it Vancouver and Extreme Makeover Home Edition and is trusted by legions of dedicated fans to share the best of fashion, home design and lifestyle inspiration on her social media channels and website. She's an expert on good taste, and with a cookbook due out next year, Harris proves she knows good food, too.
We first fell in love with Jillian's infectious personality and fun-loving approach to life when she appeared on The Bachelor and The Bachelorette. Currently living in Kelowna, Harris calls Fairmont Pacific Rim home whenever she's in town, often travelling with the other girl bosses behind her brand, fiancé Justin and Leo, her son.
Harris knows that treatments at Willow Stream Spa are necessary indulgences for staying refreshed on work trips and the garden at Botanist is a go-to for inspired lunch meetings that can cater to plant-based diets.
From a great cocktail to unwind after a busy work day, to an appreciation of modern design and art, Jillian Harris knows that living the Pacific Rim Life is all about embracing the luxuries in every day and surrounding yourself with beautiful spaces and striking food.
Read all about the Jillian & Justin premiere party at Botanist here. During Jillian's visit in June 2017, we were fortunate enough to have her complete one of our between the sheets q&a's. Check it out below.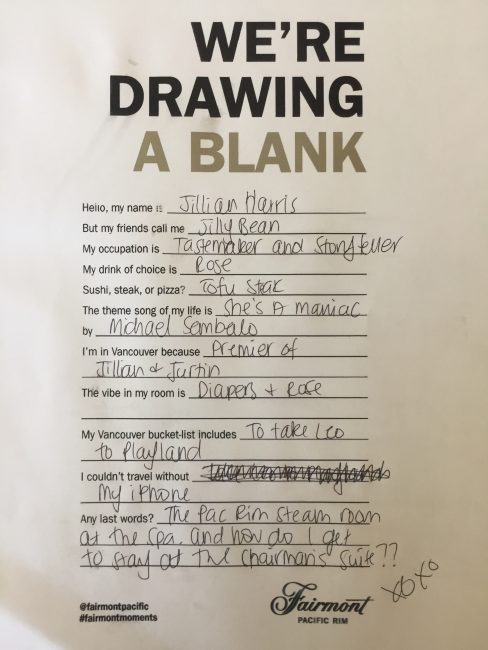 See what Jillian is up to on social media (and see if you can spot Pacific Rim on her feeds):
Instagram: @jillian.harris
Facebook: Jillian Harris
Website: www.jillianharris.com/