Wednesday, May 27 is the final performance as part of our Sounds of The Lobby Lounge live music sessions via Facebook live. Tune in for a virtual music session highlighting Paul Filek who traditionally headlines the stage at The Lobby Lounge, curated by Siegel Entertainment.  Lend your support to the local music community through any denomination via GoFundMe, and 100% of the funds raised will be donated to the headliner musician of the week. The virtual music session begins at 4:00pm PST with a cocktail tutorial from creative beverage director Grant Sceney.
This week, Grant has created a Chai Mojito, made with Havana Club 7yo Rum, chai & herb cordial, lemon, lime and ginger beer. Find the complete recipe below. For those looking to make the cocktail at home without having to run to the store, order the at-home kits via Tock for contactless pick-up (must be accompanied by a food purchase). The kit includes a Havana Club muddler and juicer (while supplies last) and all the ingredients to make the cocktail at-home for $65 CAD. For those with a stocked bar, the kit is also sold without the spirit for $30.00 CAD.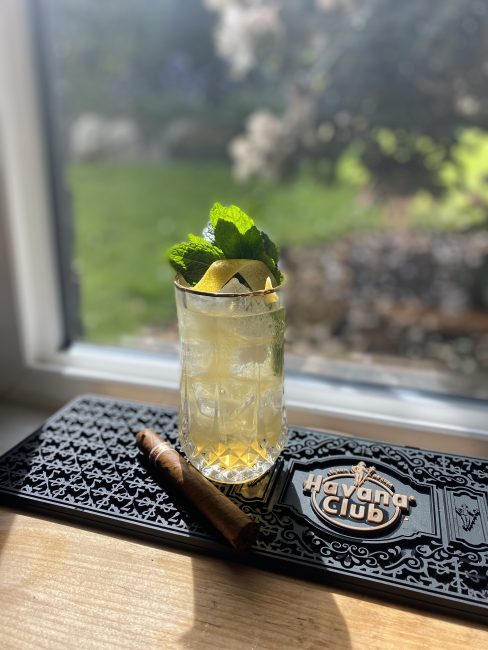 Chai Mojito
INGREDIENTS [yields 1 cocktail]
2   oz    Havana Club 7yo Rum
3⁄4 oz   Chai & Herb Cordial
3          Quartered Lemon wedges
2          Quartered Lemon wedges
2   oz    Ginger Beer
METHOD
Cut lemon and lime in half, then into four wedges.
Muddle lemon and lime in tin and add all remaining ingredients except for ginger beer.
Add ice and shake hard.
Add ice to tall glass with ginger beer, strain cocktail over top.
Garnish with aromatic herb of choice, preferably mint and a lemon twist.
Enjoy!