Every Wednesday via Facebook live, tune in for virtual music sessions highlighting some of the Vancouver's best talent that traditionally headline the stage at The Lobby Lounge, curated by Siegel Entertainment. The virtual music session begins with a cocktail tutorial from creative beverage director Grant Sceney.
This week, Grant has created a vodka tonic style cocktail with lemon grass, chamomile, lemon verbena and fresh lemon. The cocktail this week is called 'Garden Remedy'. Find the complete recipe below. For those looking to make the cocktail at home without having to run to the store, order the at-home kits via DoorDash for delivery or via Tock for contactless pick-up (must be accompanied by a food purchase). The kit includes a Absolut cocktail shaker tin set (while supplies last) and all the ingredients to make the cocktail at-home for $70.00 CAD. For those with a stocked bar, the kit is also sold without the spirit for $40.00 CAD.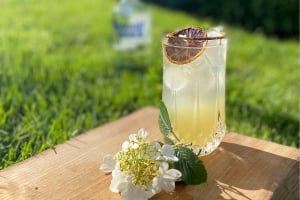 Garden Remedy
INGREDIENTS [yields 1 cocktail]
1.5 oz     Absolut Vodka
1    oz     Fresh Lemon Juice
1    oz     Lemongrass Cordial
1.5 oz     Tonic
METHOD
Shake all ingredients (except tonic) with ice.
Pour tonic over ice in a tall glass.
Strain the shaken ingredients of the cocktail into the glass.
Garnish with a dehydrated lemon wheel.
Enjoy!