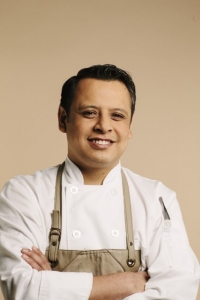 Botanist Executive Chef Hector LagunaSome say that breakfast is the most important meal of the day, so start it off right with Botanist's Brioche French Toast with Dulce de Leche and Caramelized Banana or the Crab and Avocado Benedict and you'll be off to the races like a real champ.
If brunch is more your vibe and a chance to get together with family and friends, make sure you score a reservation in advance for your preferred time on the weekend. Try the Hand-Cut Beef Tartare with Smoked Egg Yolk, Caper Berries, and Parmesan Sourdough or the Wild Mushroom Risotto. You might have to share a bite or two!
A dinner in Botanist is truly a taste of the season and Chef Laguna's summer menu is no exception. His Charred Octopus with Leek Fondue, Potato Gnocchi, and Lobster Glaze or his Dry-Aged Duck Breast with Onion Crepe, Wild Mushrooms, Nettles, and Preserved Cherry Jus have received rave reviews from guests so consider these must-try dishes for your next dining experience with us.