CHAIRMAN'S SUITE TENT
Since opening our doors, Fairmont Pacific Rim has set the stage for extraordinary meetings, events and celebrations. With the health and safety as our top priority, extensive measures have been taken to ensure you and your guests are safe when you gather at our hotel. Just in time for the holiday season, Fairmont Pacific Rim has re-imagined the Chairman's Suite tent, located on a private outdoor terrace overlooking the hotel pool and Coal Harbour, into a winter wonderland. The tent will be available from November 16, 2020 to January 1, 2021 for up to 24 people with feature cocktails from The Lobby Lounge, canapés and more.
– RENTAL RATE $750.00 CAD*
* Includes festive décor and bartender
– FOOD & BEVERAGE MINIMUM $2,000
– EXPERIENCE FOR UP TO 24 PEOPLE
– RECEPTION FOR UP TO THREE HOURS
– FESTIVE CANAPÉ OPTIONS including foie gras parfait, premium west coast oysters, lobster & mango roll, smoke salmon tartine, and more.
– COCKTAILS FROM THE LOBBY LOUNGE
FOR MORE INFORMATION PLEASE CONTACT: [email protected] or 604 695 5300
– If you would like to stay overnight in the Chairman's Suite please contact: Haruko Motoyama at [email protected]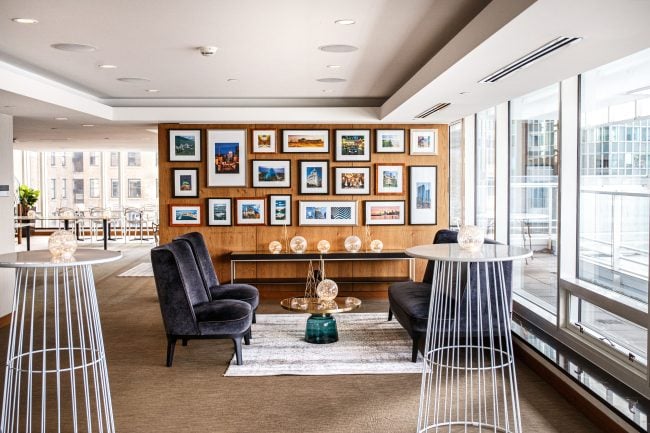 FAIRMONT GOLD LOUNGE
Celebrate the holidays in style in the private Fairmont Gold Lounge, located on the 20th floor of the hotel with panoramic views of Coal Harbour and the North Shore Mountains. The Lounge will be available for bookings from November 22, 2020 to January 2, 2021 for up to 30 people. As always, caring for you is our top priority. To learn more about the extensive measures we are taking to safeguard, protect and care for our valued guests and employees, visit ALLSafeandWell.com.
In the exclusive Fairmont Gold Lounge, the dedicated team extends a friendly, sincere welcome and ensures that your every need is met. The space features a cascading stairwell, separate seating and lounge areas, a dedicated wet bar, floor to ceiling windows and an outdoor terrace overlooking Coal Harbour and Stanley Park
– RENTAL RATE $2,000.00 CAD*
* Includes festive décor
– FOOD & BEVERAGE MINIMUM $3,000 SPEND
– GOLD LOUNGE HOLDS UP TO 30 PEOPLE
– RECEPTION FOR UP TO THREE HOURS
– FESTIVE CATERING MENU includes options for plated functions, reception stations and canapé attended stations
– SELECTION OF WINE AND HAND-CRAFTED COCKTAILS
FOR MORE INFORMATION PLEASE CONTACT: [email protected] or 604 695 5300