Fairmont Pacific Rim is proud to announce the 2022 Hot Chefs Cool Jazz Gala in Support of Junior Culinary Team Canada will be hosted by our very own Executive Chef Damon Campbell at the hotel on Friday, April 22, 2022. Top culinary talent from the Vancouver and Kelowna areas will be paired with a member of Junior Culinary Team Canada or Culinary Team BC to provide exclusive dishes specifically designed for the event.
All proceeds from the event's ticket sales will support Junior Culinary Team Canada and Culinary Team BC as they prepare to compete in Luxembourg in 2022 for the World Culinary Competition. In 2024 they will also compete in the Culinary World Olympics, the largest, oldest, and most colourful international exhibition of culinary arts with chefs from all over the world competing. The Gala's host, Chef Campbell, was the team captain of Culinary Team Canada in 2005 and 2006, leading them to gold medal victories at the World Culinary Olympics in Germany.
This year's gala will welcome Dawn Chubai as the master of ceremonies. In addition to her current role in Toronto as National Host at TSC, Canada's only television shopping network, Dawn's hosting resume includes cooking and real estate shows along with her previous role as Host of Breakfast Television Vancouver. Dawn is also an accomplished jazz vocalist and award winning-recording artist.
Tickets to the 2022 Hot Chefs Cool Jazz Gala are now on sale for $250.00 CAD for general admission or $325.00 CAD for VIP tickets. The event will begin at 7:15 p.m. for general ticket holders. VIP ticket holders will get early access to the event at 6:30 p.m., access to the VIP lounge and bar, experience exclusive dishes designed by Fairmont Pacific Rim Executive Chef Damon Campbell, and have a meet-and-greet with Dawn Chubai over cocktails.
Confirmed Featured Chef Attended Stations by:
Chef Damon Campbell – Fairmont Pacific Rim (VIP Access Only)
Chef Rod Butters – RauDZ Creative Concepts Ltd.
Chef Robert Clark – Chief Culinary Officer – Organic Ocean Seafood Inc.
Chef Roger Ma – Executive Chef Boulevard Kitchen and Oyster Bar
Chef Scott Jaeger – 2007 Bocuse D'or Canada – Peartree Provisions
Chef Dawn Doucette – Douce Diner
Chef Patrick Gayler – Mission Hill Winery
Chef Meeru Dhalwala – Vij's Restaurant
Chef Hamid Salimian – The Good Flour Co
Chef Angus An – Chef / Owner Maenam Restaurant
Chef Evan Elman – Vancouver Private Dining
Malindi Taylor – Fanny Bay Oysters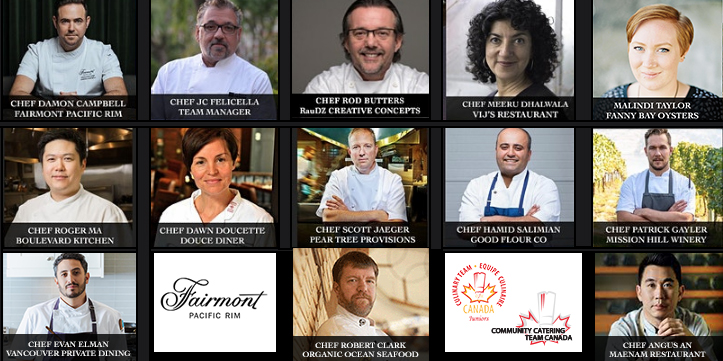 To purchase a ticket to the event, click here.