In the past ten years, men's treatments and spa attendance is up more than forty-seven percent. We couldn't be more supportive of this trend, as we believe everyone should make it a priority to take time away from the stresses of everyday life. After all, whoever said self-care and wellness can only be enjoyed as a female endeavor?
At Willow Stream Spa, we have been busy creating a unique male treatment list. This means that male spa-goers can easily pick and choose from therapeutic treatments and technology that align with their wants and needs. Check out these four must-have treatments.
1. EXECUTIVE REBOOT
Relieve – 3.5 hours
Disconnect, unwind and recharge with the ultimate spa day! The tension-relieving Willow Stream Signature Massage offers an anti-aging and rejuvenating Active Repair Facial, therapeutic and nourishing Executive Foot Grooming, and a delicious and healthy spa lunch. The perfect retreat centered around mindfulness, mental focus and inner tranquility, offering a holistic approach to wellness.
Need a translation?
If you are looking to spend a few hours at the spa, be sure to take advantage of our amenities, enjoy a healthy bento box styled lunch, or receive several treatments throughout your visit. This Executive Reboot is a three and half hour experience, which will allow you to be feel pampered and taken care of from one treatment room to the next.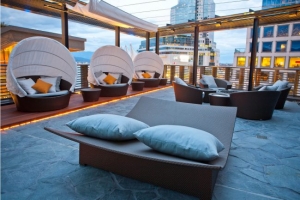 2. VAN ACTIVE
Results – Vitality — 90 minutes
This stimulating treatment focuses on muscles and joints, building vitality. It begins with an invigorating Turkish salt scrub infused with eucalyptus, followed by a personal steam to aid in detoxification. A luxurious massage using organic juniper fennel and lavender oil completes this powerful experience.
Need a translation?
If you are extremely active and your muscles and joints could use some extra love, then the Van Active treatment should be first on your list. As mentioned previously, it includes an exfoliating salt scrub which helps get rid of dead skin cells and unclogs pores. After that, you will be guided to our steam room. The steam room is known to improve blood circulation and cardiovascular health. Lastly, you will receive a massage that focuses on easing muscle and joint tension. This combination of treatments is very popular with our athletic spa guests, so much so that they will continue to book the Van Active experience on repeat.
3. ACTIVE REPAIR FACIAL
Restore – Refine— 60 minutes
Renew your skin with this anti-aging and rejuvenating facial treatment designed especially for men, focused on energizing dull and tired skin, while also reducing fine lines and wrinkles. Taurine, Siberian ginseng and hops are just a few of the active ingredients that help make this treatment refreshing and effective. Enjoy the immediate benefits of the BABOR Ampoule specially chosen for you, followed by a nutrient-rich collagen sheet mask to refine, add strength and vitality to the skin.
Need a translation?
There is a common misconception that facials are just for women, but we couldn't disagree more. It's no secret that the majority of men typically don't treat their skin properly, including skipping daily use of SPF and moisturizer. If you are looking to simply rehydrate your tired, thirsty skin, let us take the reins and allow you to be fully pampered the way you should be. We promise you will leave with a happy, healthy glow. You can thank us later!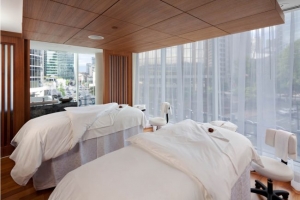 4. "GET FIT" FACIAL
Results – Clean and Tight with K Lift Technology — 60 minutes
Get Fit is the ultimate modern men's firming treatment. This fitness facial includes a deep cleansing mask, exfoliation and facial massage. Red LED Light and Impulse Micro-Current accelerate cell repair and re-educate muscle tone for a more lifted appearance. Finally, the treatment concludes with a stress-relieving neck, scalp and shoulder massage.
Need a translation?
If you are looking to strengthen and firm your skin you will benefit from our LED Red Light therapy facial. The LED Red Light therapy is known to reduce joint stiffness, improve blood flow, reduce inflammation, improve collagen as well as elasticity. Therefore, the results equal clean, fresh, and youthful looking skin. Need we say more?
We hope that one (or more) of these treatments inspire you to press pause and take some much needed R&R with us at Willow Stream Spa. Call (604) 695-5550 to escape to our oasis and make an appointment today. For more info about Willow Stream Spa, view our full treatment list here.