The article, written by Elva Ramirez, highlights three of our picturesque bathrooms including the Chairman's Suite, Prime Minister's Suite and the Signature Ofuro Room. It also speaks to some of the signature amenities we offer such as our infant bathrobes and our Le Labo bath products with the Rose 31 scent, made exclusively for Fairmont.
"There are two kinds of travelers. The ones who check out the bath amenities the first thing they enter a hotel room… and everyone else. This is a monthly look at the most coveted bathrooms in luxury hotels around the world. Located in Vancouver, British Columbia, the Fairmont Pacific Rim is situated amid a bustling cityscape, yet also boasts views of the North Shore Mountains, Stanley Park and Coal Harbor. Multiple rooms feature sweeping vistas contrasted against sumptuous decor details."
Where: The Chairman's Suite, Fairmont Pacific Rim. It's also, for obvious reasons, called the "Rock Star Suite."
The designers: Architect James Cheng and CHIL Interior Design created rooms that meld "West Coast elegance with an Asian flair." Suites debuted in February 2010.
The design details: The Chairman's suite bathroom features a hand-carved deep jetted soaker tub (the Ove BOV 01-66, to be precise) which is big enough to completely submerge two bathers at the same time. (Hmmm….) The tub looks out onto a private terrace with a meditation pond, fire pit and private gazebo.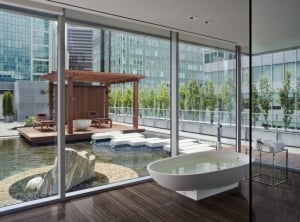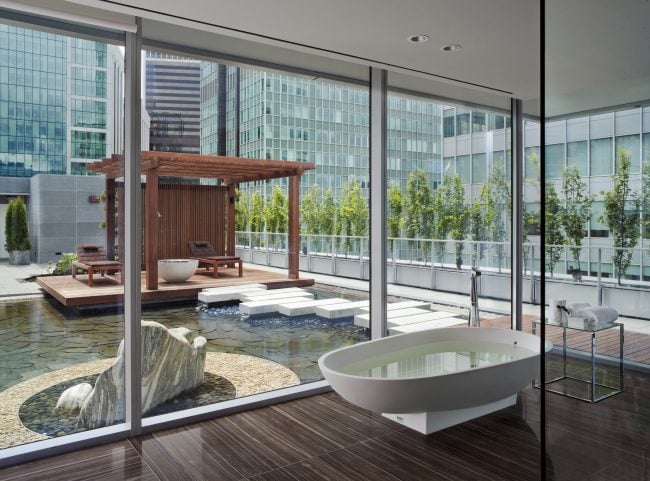 The products: Le Labo bath products, including bar soap, shampoo & conditioner, body wash and body lotion. The scent, Rose 31, is made exclusively for Fairmont. Also look for the velvety and oversized Mascioni towels and Majestic International bathrobes.
The amenities: Each bathroom at the Fairmont Pacific Rim have marble spa-inspired floors with either deep soaking tubs or spa showers. Every bathroom is also stocked with an LCD TV and Bose sound system.
Unexpected amenity: Upon request, you can get a full baby kit including a baby tub, infant bathrobe and children's bath products. (Cribs and bottle warmers are also available.)
The other suites: Can't stay in the Chairman's Suite? Consider the Prime Minister's Suite, which boasts impressive bath views of its own.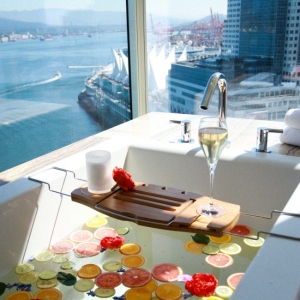 "Sweeping views are also on display in the signature rooms."