We are thrilled to share the news that Fairmont Pacific Rim has recently unveiled a TASCHEN Library, located on the second floor of the hotel. It is one of only two retail locations in Canada completely dedicated to TASCHEN, the publisher of the "most beautiful books on the planet". The new library at Fairmont Pacific Rim offers a full catalogue of TASCHEN titles. Over 275 books will be available, ranging from TASCHEN's affordable artist monographs to their prestigious limited and signed Collector's Editions.
TASCHEN's diverse portfolio of eye-catching books celebrates innovation and cultural creativity. With the addition of floor-to-ceiling bookshelves, guests can browse and shop best-selling titles from the TASCHEN universe covering pop culture, fashion, music, contemporary art, photography, travel and gastronomy. "The addition of the TASCHEN Library highlights the hotel's commitment to artistic partnerships in all forms while introducing another world-class brand to Vancouver," comments Jens Moesker, Regional Vice President and General Manager, Fairmont Pacific Rim. "We are thrilled to share TASCHEN's passion for creativity and innovation and look forward to welcoming hotel guests and locals to the TASCHEN Library."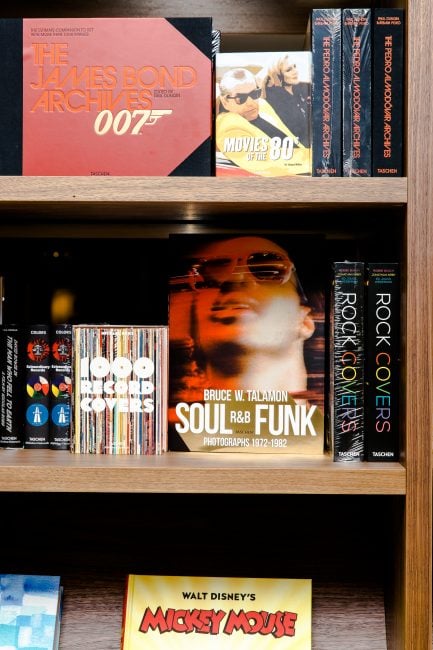 The TASCHEN Library will be open daily from 10:00am-6:30pm (12:00pm-5:00pm on weekends) with a team of retail experts on-hand to guide guests through the library and find the perfect coffee table book or souvenir to bring home. Those traveling internationally can opt to have their purchases shipped to their home (shipping fees apply). Founded by Benedikt Taschen in 1980, today TASCHEN is renowned globally. The privately owned publishing house operates 12 branded stores around the world from Beverly Hills, New York, and Miami to London, Brussels, Paris and Milan.