Nestled between the Pacific Ocean and Coast Mountains, Vancouver is refreshing, sophisticated and full of culture. The city is alive with creativity, from musical theatre, festivals, and design to exhibitions, galleries, museums and more. Vancouver is home to the fifth largest art gallery in Canada and the largest in Western Canada. The thriving arts community is home to some show stopping pieces from a giant 70-foot tall mural located in Granville Island to 14 cast bronze laughing men figures in English Bay.
Here are our top 10 picks of public art that you must see while in Vancouver.
DIGITAL ORCA
Pay a visit to the Digital Orca jumping out of Burrard landing, about to make a big splash. Get up close and personal with this Douglas Coupland pixilated, three dimensional sculpture, designed to create an unexpected depiction of the diverse harbour.
16.480
Located in the middle of the driveway at Fairmont Pacific Rim and commissioned by Westbank, this outdoor art installation titled 16.480 by Omar Arbel is made up of glass tree-like minarets, emerging from constructed burnt wood planks and positioned to form a canopy of light. The piece was created by manipulating the seemingly simple process of pouring and layering hot glass and then illuminating with an internal LED lamp.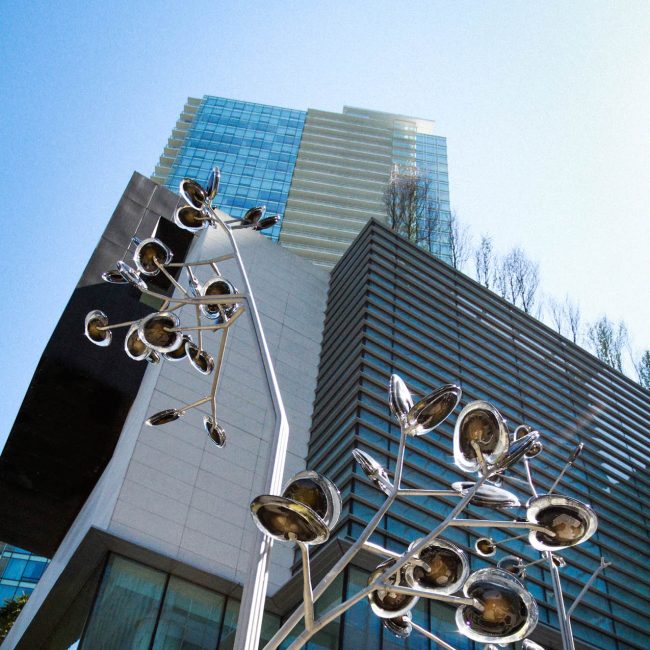 ABBOTT & CORDOVA, 7 AUGUST 1971
This 50 by 30 feet art installation hanging above the Woodward's atrium by Stan Douglas, is a photo representation of a little known, however crucial moment in Vancouver and the Downtown Eastside's history. Commissioned by local developer Westbank, the piece depicts the "Battle of Maple Tree Square," which occurred when Vancouver police, violently broke up a peaceful protest, which caused mayhem and destruction on Gastown's streets. The riot ultimately led to the city zoning the area as strictly commercial.
GRANVILLE ISLAND SILOS
Descend upon the giants at Granville Island with six concrete silos that were transformed into a vibrant, 70-foot tall mural. Street artists, OSGEMEOS (Brazilian twin brothers Gustavo and Otávio Pandolfo) have turned the industrial towers into a colourful work of art.
WHALEBONE
Watch the sun set through the famous Whalebone sculpture at Sunset Beach. This spot is perfect for taking it easy and leaning back on the beach logs to enjoy a perfect Vancouver sunset.
DALE CHIHULY – PERSIAN GLASS SERIES
Westbank's second commission represents a leap in ambition, if not in scale, through the invitation to a leading contemporary craft artist with an international reputation. Dale Chihuly, the renowned Seattle-based glass sculptor whose work is included in over 200 worldwide museum collections to-date, was commissioned in 1998 to create Persian Wall, an ornamental installation of blown glass sculptural forms situated outside the building's front entrance.
FOREST SCREEN
A photograph of North Vancouver's majestic rainforest, informed the perforated steel screen that graces the south western façade of the Fairmont Pacific Rim Hotel. Designed by James KM Cheng, the building architect, this screen employs patented technology and comprises 9,500 square feet of stainless steel. Through thousands of texturally rich perforations, bumps and dimples, the perforated steel creates an illusion of trees and light. Spectators may marvel at these majestic trees then step outside and experience the artful transformation. Best viewed form the south side of Cordova Street.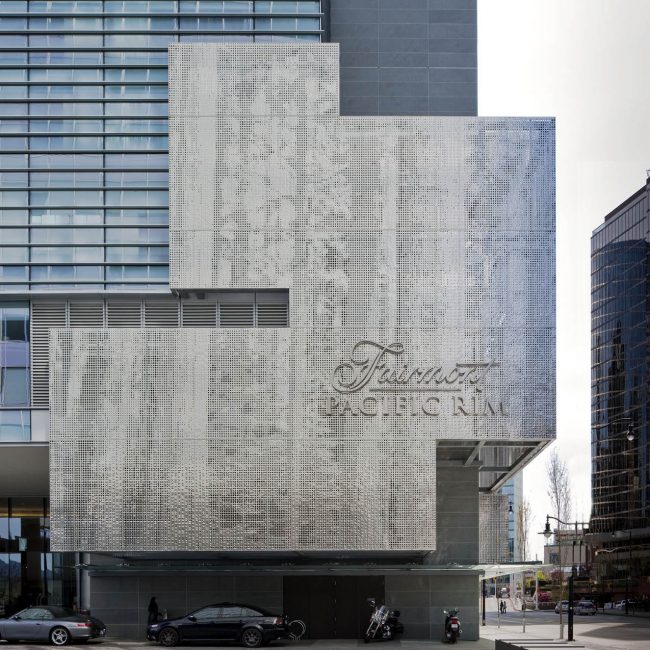 VANCOUVER MURAL WALK
Stroll through Main Street in East Vancouver and be captivated by more than 50 installations of public art that contribute to the city's cultural legacy. The creation of permanent murals began in 2016 and has since grown in size, bringing awareness to local artists and celebrating art and culture in the heart of the city. Check out the week long Vancouver Mural Festival that happens in early August.
THE BIRDS
Vancouver artist Myfanwy MacLeod created The Birds to highlight both the lighter and graver sides of what can happen when a non-native species is introduced to an environment, how the beauty of birds can sometimes mask their threat to biodiversity. Located in Olympic Village, this massive piece of art overlooks the scenic waterfront views of False Creek and is shaped by the community's focus on sustainability.
A-MAZE-ING LAUGHTER
One of the most beloved sculptures in Vancouver, artist Yue Minjun portrays his own image in a state of hysterical laughter. This artwork is a legacy of the Vancouver Biennale and has quickly become an iconic cultural beacon in the city and will continue to inspire and engage the imagination of future generations of residents and visitors from its home in Morton Park.