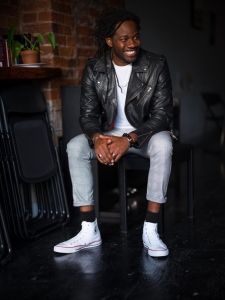 Our very first Artist In-Residence to be featured is Duane Forrest, a singer-songwriter born and raised in Toronto, Canada. Duane has had the opportunity to learn many musical styles and instruments having lived in Mexico, Honduras and Puerto Rico. His warm acoustics will reawaken your soul to the story of l'amour, delivering in several languages, weaving eclectic styles of bossa nova, jazz, and soul.
Aside from his innate drive to create beautiful things, Duane also has a passion for arts education. In 2011 he founded Genesis Community of the Arts, a registered Canadian charity offering music and arts education to marginalized children and youth in Toronto and Central America.
Watch this space for updates as we spotlight our featured artist in residence.
Duane Forrest's performance times:
Tuesday, November 20th – Trio for the Fashion Show
Wednesday, November 21st – 5:00pm – 7:30pm
Thursday, November 22nd – 5:00pm – 7:30pm
Friday, November 23rd – 9:00pm – 1:00am
Find his full performance line-up, here.