From hiking a local trail in the North Shore to catching a rainy day movie at the Scotiabank Theatre, the crisp fall air and vibrant tree colours makes fall a perfect time for exploring, or of course staying in.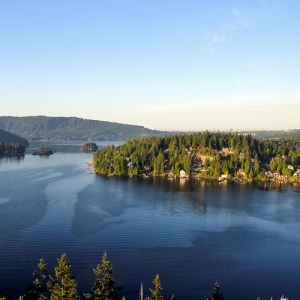 Photo Credit: OutdoorVancouver.ca
1. Take a hike in the trees
One of the best ways to see a picturesque view of the city… is from the mountain tops! Vancouver has an abundant amount of hiking trails ranging from beginner to expert. A quick drive over to North Vancouver will have you looking at panoramic views of the Indian Arm and the mountains surrounding Belcarra in just under 2 hours from the Quarry Rock trail (3.8km). For those looking for a longer adventure, make your way up Seymour Mountain and onto the Dog Mountain trail (5km) for breathtaking views of downtown Vancouver, Lions Gate Bridge, and Stanley Park.
2. Shop the latest Fall trends
One of the great things about a change in season is a change in wardrobe! Shop the latest fall fashion at Pacific Centre, the largest downtown Vancouver shopping mall, with over 100 stores and shops. For those looking for more luxury shopping, Alberni Street or "Luxury Row" is lined with the top luxury brand names from around the world, from Hermes to Louis Vuitton and Tiffany & Co. Nearby in Holt Renfew, the largest Christian Dior accessory boutique in Canada holds its place at the ground-level Granville Street entrance.
3. Indulge in a decadent dessert
The perfect ending to crisp fall night? Dessert. Vancouver is home to some very creative chocolatiers and pastry chefs, each with their own spin on dessert. Dive into the Tiramisu Sundae at Osteria Savio Volpe made up of Beta 5 gelato, marsala and hazelnuts, perfect for sharing (if you must). Mister Artisan Ice Cream in Yaletown has re-invited the S'more with their S'Mores Bar 2.0, a dark chocolate ice cream sandwich in a graham cracker crust, dipped in Belgian chocolate, covered in crumbled crackers and made-in-house marshmallow fluff before finally being torched to perfection.  We will take two please!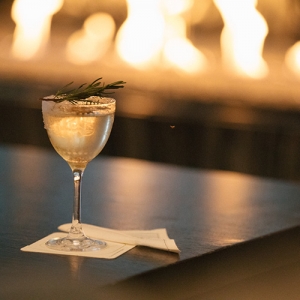 The Lobby Lounge and RawBar, Fairmont Pacific Rim
4. Cozy up by the fireplace, with a cocktail
The Lobby Lounge and RawBar inside the Fairmont Pacific Rim is the perfect place to spend a fall night, near the sleek fireplace with a great cocktail and live entertainment.  The extensive cocktail list includes the city's most fashionable cocktails, 'Fashion Takes Flight', a trio of cocktails inspired by the rotating couture dresses on display in the lobby. Come early to get a seat near the fire.
5. Taste your way through Vancouver's coffee scene
Need something to invigorate you so you can hit the ground running? With the hustle and bustle of big business and visitors to Vancouver, the city practically runs on espresso. Revolver, located at 325 Cambie Street is a must-visit when in the city. Their pour-over brewing method has made them a local staple and the perfect place to settle in and enjoy your cup of coffee. At giovane café + eatery + market guests can enjoy a delicious cup of drip coffee or specialty items such as the Banana Coconut Latte or the Signature Hot Chocolate, made with Nutella, a chocolate hazelnut spread.
6. Stroll the VanDusen Botanical Gardens
The VanDusen Botanical Gardens, located in the heart of Vancouver, is a great stop for garden and wildlife lovers. The 55-acre oasis has over 7,500 plant species and varieties from around the world. Even on a rainy day, the plant life is vibrant and full of colour and the perfect addition to your instagram feed. The Garden also features an Elizabethan hedge maze and multiple dining destinations.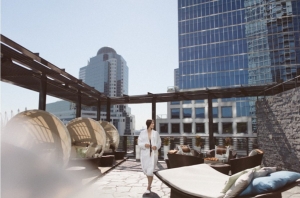 Willow Stream Spa, Fairmont Pacific Rim
7. Spend a day at the spa
Find time to unwind at Willow Stream Spa, an oasis in the middle of the city. The downtown Vancouver location is perched on the fifth floor of Fairmont Pacific Rim and has over 8,500 square feet of tranquil space, including nine treatment areas, a couple's room with a deep Japanese Zen soaker tub, a Nail Spa, three lounges, a full fitness centre and spa terrace. Try out the Neroli Blossom Renewal, a 60 minute body experience to awaken your senses with the signature aroma of neroli essential oil in a deeply relaxing, and uplifting experience.
8. Catch a headliner in the city
Vancouver is a prime location for local and international concerts and festivals. Throughout the year, diverse genres pack the city, from folk, rock, country, hip-hop and everything in between. The city has be host to internationally acclaimed artists in the past such as Justin Timberlake, Coldplay, Beyonce, and U2 that have put on an unforgettable show and worth the dollar value. Grab your best friends or family members and get ready to dance and sing your heart out. Visit Live Nation to see what upcoming headliners are making a stop in Vancouver.
9. Settle in for a sensory dining experience
Sometimes the best thing to order at a restaurant is what the Chef recommends. A tasting menu provides just that. A collection of small portions of several dishes, allowing the diner to taste most of the menu items at a set price. Vancouver has no shortage of acclaimed chef's creating some delicious and instagram worthy dishes. At Mak N Ming, modern fine dining with style, there are only tasting menus available.  The 6 course 'Chef's Menu', set at $85 per person, highlights fresh and flavourful ingredients inspired by the French/Japanese flavours. Across town at Botanist, Vancouver's hottest new restaurant, Executive Chef Hector Laguna's 5 course tasting menu set at $108 makes use of Vancouver's abundant seafood and locally foraged ingredients such as wild mushrooms. The dishes are artfully plate on a dish almost too pretty to eat. We said almost.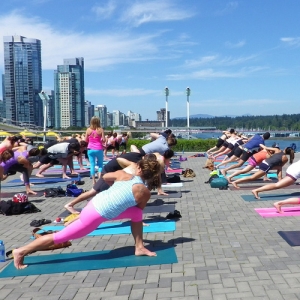 Photo Credit: Karma Yoga
10. Clear your mind with a free yoga class
A new season can bring about a new mindset. The fall seasons gives us the space to reflect on the past season and look to the future. Spend some time on yourself with the daily practice of yoga. In Vancouver there is no shortage of yoga studios offering classes from beginning to experts yogis. lululemon athletica, a yoga inspired athletic apparel company that was founded in Vancouver in 1998, offers complimentary classes around the community and in-store.  Find your local class here. The Mat Collective is a nonprofit organization that runs on the belief that outdoor yoga is more than just a great stretch; it is a community where friends are made, connections are rekindled, and a place you can unwind in the sunshine.
Want to experience all that a Vancouver fall has to offer? Spend the weekend or weekday staycation in the city at Fairmont Pacific Rim with the Fall for Gold room package. Enjoy 15% off luxurious Fairmont Gold accommodation with sweeping views of the snow-capped North Shore Mountains as well as exclusive access to the Fairmont Gold Lounge. The Fairmont Gold Lounge includes locally-inspired daily hot breakfast with a Chef-attended omelette station and a seasonal selection of afternoon snacks, evening canapés and desserts, and an honour bar. Not to mention the panoramic views of the harbour from the 20th floor!