In a city where dog owners are aplenty, it's not hard to find places to go with the four-legged member of your family in tow.
Even the top Vancouver dental clinic let patients bring their dog there for emotional support and comfort! At Fairmont Pacific Rim, rest assured that your dog is welcome and our Concierge team is happy to arrange pet sitting services if required. But if you're eager to bring your furry friend along on the adventure, check out some of the top dog-friendly spots around the city.
Farmer's Markets
Several outdoor farmer's markets are open around the city throughout the warmer half of the year, and they're the perfect place to spend an afternoon with your dog. Stop by a farmer's market to pick up seasonal and local produce, gifts, and artisan goods, or grab a bite to eat. Many farmer's markets, such as the Trout Lake and Mount Pleasant locations, are adjacent to parks, making them the ideal spot to let your dog run off any excess energy afterwards.
Vancouver Seawall
The world's longest uninterrupted waterfront path is also a dog owner's dream, with over 20km of walking paths along some of Vancouver's most spectacular views. Extending just steps from Fairmont Pacific Rim all the way to Spanish Banks Park, you can spend an entire day (or two!) just exploring all the sights along the Seawall. Make sure to stop at Mahony & Sons at Stamps Landing for a drink or a meal on their large, dog-friendly patio overlooking False Creek.
Pacific Spirit Regional Park
If you want to get away from the city without going very far with your dog, head over to Pacific Spirit Regional Park on the west side of Vancouver. You'll both be reconnecting with nature in no time along the many walking trails, some of which are leash-optional. With an average of 360,000 dog visits per year, your dog is sure to make a few friends along the way.
Hadden Park Dog Beach
Whether you've got a social pupper-fly or a more introverted pooch, your dog is bound to find something to love about the dog beach at the off leash Hadden Park Dog Beach, whether it's running around with other dogs, going for a swim, or joining you for a stroll along the sandy beach. Located just off Vanier Park, the dog beach is a popular spot for dog owners and boasts some of the most spectacular views of the North Shore mountains. Stay to watch an epic sunset or take off on the False Creek Ferry just a short walk away — it makes several stops along False Creek and your dog can join you on board to take in the scenic ride.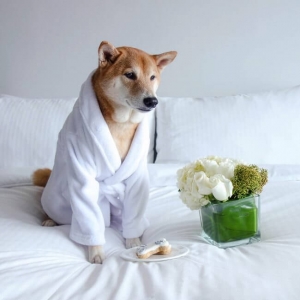 We've welcomed thousands of guests to Fairmont Pacific Rim over the years but no one has been quite like Bodhi, the Menswear Dog. The most stylish canine in the world visited Fairmont Pacific Rim in 2018. Read more about how Bodhi lived the Pacific Rim Life.