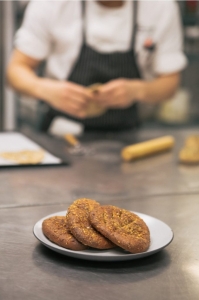 Botanist's Leaf Shape Fougasse Bread
The famous leaf shaped fougasse bread which is served at Botanist during dinner is made in house by Chef Jeffry and his talented team. The bread uses locally milled flour from Flourist. They mill our flour to order so it's incredibly fresh and free from chemicals and whitening agents, maintaining more of the grain's natural nutrients from the germ than commercially processed flours.
Sixteen Dessert in Lobby Lounge
The Pastry Team finds inspiration throughout the hotel and our lush West Coast surroundings, but in The Lobby Lounge, they drew inspiration from the Bocci art installation on our front drive; 16.755. Sixteen, the chocolate and smoked coconut ganache dessert in Lobby Lounge, is a must-try. For those with a sweet tooth, you will be happy to hear that the pastry team is currently working on a new dessert inspired by the renowned Yves Saint Laurent Mondrian dress which is part of the Westbank couture dress collection.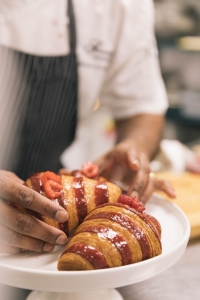 Raspberry Croissants
Our raspberry croissant is made with extra love to achieve the beautiful spiral of red color throughout. It's filled with a house-made raspberry jam, using local BC raspberries when in season.
The Rhubarb Meringue Dessert in Botanist
Although we don't advertise it on our menu, we always have a gluten free and vegan dessert at Botanist. Our newest dessert which launched this July is a roasted rhubarb and meringue dessert. How does the pastry team make a vegan meringue you ask? By using aqua faba, which is the liquid recovered after cooking chickpeas; the carbohydrates and proteins released into the water during cooking allows it to mimic the foaming and binding properties of egg whites and makes a beautiful meringue. Delicious!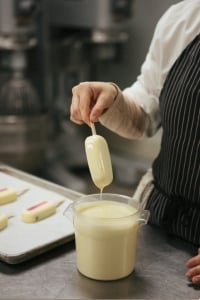 Giovane Cake Bars
Our Giovane cake bars look like an ice cream bar, but disguise multiple layers of cake inside. As they are served on a stick, they make great dessert snacks for a picnic, hike or anyone on-the-go. The cake bars are mini replicas of our full size version of cakes, and as you can imagine, getting all of the many layers from a 2 to 2.5 inch high cake into something less than 1" is certainly a challenge!
Chef Jeffry sent us off with a few other parting pastry facts that you may be surprised to learn:
1.  A lot of granulated sugar is processed using bone char, making it not suitable for vegans. All of our sugar here at Fairmont Pacific Rim does not use bone char and uses ionic filtration processes so it's vegan friendly!
2.  Salt! Don't forget the salt whenever baking. Everyone thinks salt is for savoury cooking, but it's just as critical in the pastry kitchen. Salt enhances and balances flavor profiles in sweet desserts; especially baked items. We have a new Kouign Amann that is sweet and salty, and the Maldon salt used in it is critical to achieve that irresistible flavour.
3.  Many pastry kitchens use five to six different chocolates: basic milk, white, and dark chocolates, and maybe a couple of specialty chocolates. Our pastry kitchen uses over 25 different kinds of chocolates across multiple brands. They test chocolate and find the right couverture for each individual use or application to ensure it makes sense for that dessert and flavor profile.
4.  It's all about finding unique ways to highlight basic flavours that most people enjoy. Our pastry kitchen most often focuses on fruits and nuts, citrus, chocolates, herbs and spices like tarragon, cardamom.
View our giovane café, Botanist and The Lobby Lounge menus for Chef Jeffry and his teams current dessert offerings.